The Binary Dictionary App is more a gimmick for programmers than the general crowd of non programmers.
Or more to the point does a person really care what 11110000 means in binary code. This one byte of information. Eight small bits of ones and zero's.
Like I mentioned before I'm still learning this programming stuff. Step by step I learn more. And a part of the learning process is try to make your ideas come to life. So that's why I made this App to better understand the binary numbering system. But also linked to this the hexadecimal numbering system. ASCII the visual expression of the numbering system in readable letters, numbers and signs.
What I also learned is that the first 128 ASCII code are fixed. The other half differs depending on the computer system or software that you use. For this App I used the Mac extended ASCII version. Which means I can make  signs. A lot of 
The other thing is the design of the App itself. I didn't want the usual input method of a number keyboard of apple, because all that I will be using is just zero's and ones. But a zero and one as input system is weird…and also hard to do. So why not make 8, the precise amount for a byte. 8 bits which leads to 256 different outcomes. That's the top part, as you can see in image below.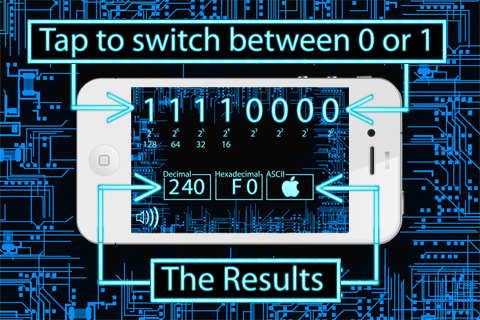 Below the input of 1 and 0, is put the exponentiation values of 2. Starting from 0 till 7.
Below this the actual values if you calculate the exponential values. So tapping the corresponding 0 value to 1 means a certain value combined with the location of the byte. that the eight digit you see in zero and one.
After this the final part three different table which shows you the cumulative exponential values in decimal and hexadecimal. These values can then be translated in ASCII code that you can read
11110000 means 
01100001 means a
Oh one other thing the code has to be read from right to left, which can be confusing.
Beside this the design is pretty cool in my opinion. I tried to aim for a glowing effect, which worked out pretty fine.
Description in the AppStrore:
Wikipedia explains binary code as: a way of representing text or computer processor instructions by the use of the binary number system's two-binary digits 0 and 1. This is accomplished by assigning a bit string to each particular symbol or instruction. For example, a binary string of eight binary digits (bits) can represent any of 256 possible values and can therefore correspond to a variety of different symbols, letters or instructions.
With the Binary Dictionary App you can find all those values in no time. Type in the corresponding zero's and one's and find out the results in Decimal, Hexadecimal or ASCII.