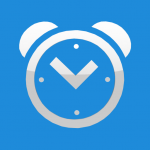 The "Another Alarm Clock" app will just like any other alarm clock, wake you up at the time you want. But "Another Alarm Clock" is not just another alarm clock… "insert your own pun joke here".
But seriously it contains lots of features and settings.
+ current weather forecast with temperature, wind speed, humidity info.
+ forecast up to 2 days
+ weather icons aware of day and night (displaying sun and moon)
+ two different sets of weather icons
+ set time to AM/PM or 24 hour mode
+ set temperature to °C or °F
+ can play music from your library as alarm sound, when the app is running in foreground
+ can play multiple songs if you like
+ tap on screen to dim display
and one last thing…
+ play video as alarm! PLAY VIDEO AS ALARM!
Yes you can play your own videos shot from your very own iPhone as an alarm. The best moments of your life. Personal messages from your loved one.
Be inspired every morning with certain videos. I for one use the '97 Think Different ad alternate version.
Watch you favorite music clips as alarm. The sky is the limit here.
If you don't like leaving your iPhone on at night. You can set the alarm as you prefer, hit the home button and lock your iPhone. "Another Alarm Clock" will run in the background. When the time comes you'll get an alert message with a sound as the alarm. When you launch the app, as the alert message suggest, the video or songs will then be played.
Enjoy the app, sleep tight and rise with…