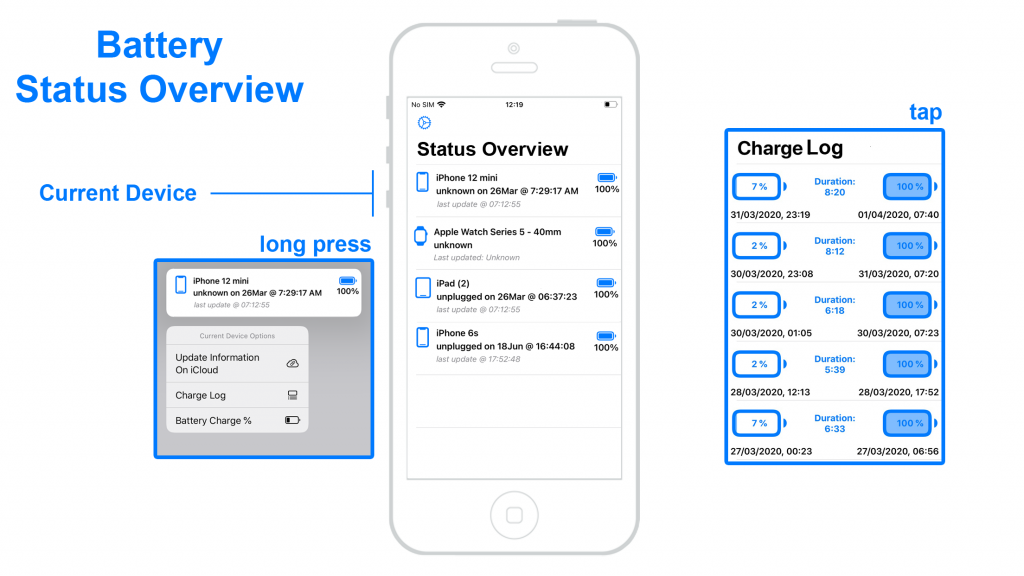 Battery Overview List is an application for users with multiple Apple devices and who wish to keep track of battery charges across all those devices.
Using one device, let's say the main, you can see the battery charge status information for the device that you are holding and all your other devices.
TableView Interactions:
The first table view item is the current device that you are holding. When you tap on the item itself you can see the charging log. But when you do a long press, you'll get a context menu with more options to choose from.
The other table view items are for other devices that you own, where the app has been installed. When you tap on the item, an update request will be sent to the device to update itself for the battery charge value and status. But when you do a long press, you'll get a context menu for other options like the charge history of the device or the option to delete the item itself.
Plug-In Interactions:
When you plug-in the device, the plug-in time and charge value will be noted. When you unplug the device, the unplug time and end charge value will all be combined with the plug-in values into a charge history item.
The other thing is at plug-in a battery charge view will be shown with the battery charge value. When it reaches 100% you'll get an alert.
Homescreen Widget Support:
View the battery charges for all your devices on the homescreen without needing to start the application.