So the last couple of days I've been kinda slow. Or more the feeling of low in energy. I think it's the weather. Nothing but rain, cold and wind. Which will make anyone feel…ehm I want to say depressed. But then again the word "depressed" has so many other meanings from a light meaning of feeling down to a heavy meaning of depression itself. So I'll say slow then. Like an amphibian, getting slow and inactive when it's cold (active when it's warm). Btw not saying I'm cold-blooded.
Anyways the effect on me is doing all kind on my iMac workstation, which can be labelled as PROCRASTINATION. You know surfing the web and playing games. On of the game (or actually only game I play on the iMac) is Hearthstone. Yeah played Magic the Gathering, when I was young / in high school, so got hooked on Hearthstone pretty quick. Note I'm in the free to play category. Which means I can't ever play "wallet warrior" or other big and expensive decks. But recently I did got to craft a good GvG card: Dr Boom.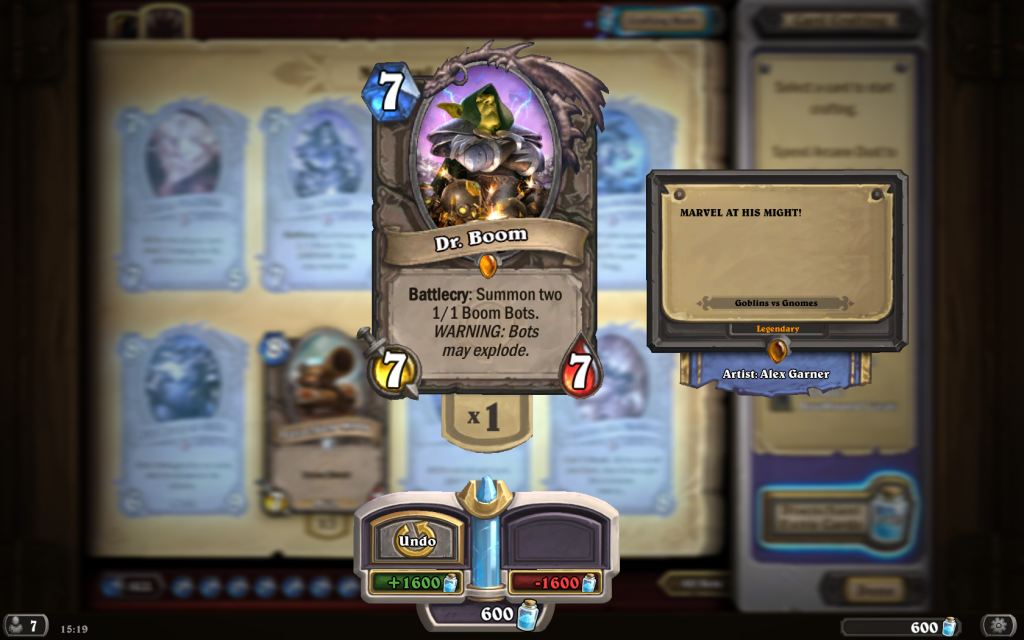 And so far he's doing wonders. My main deck is Hunter of course. Currently as mid-hunter card he's the best, next to the two savannah highmanes. I still need other cards like Sylvannas and Ragnaros to make a real control hunter. Or go the way of the control player. Anyways….this is Hearthstone. If you don't know the game. The above post will sound like blabla….
But the point is that every time I start the game I get greeted by the welcoming text of
"It's cold outside."
"It's sure warm in here, come and play a game at the fireside."
This is funny and feels true somehow. The correct situation and it feels like that the game knows that you'll gladly accept the invitation 🙂
The other game I play is Injustice on the iOS. So just two games for me. I could do more of course. But's that would me more distractions and a time consuming habit that I can't afford.
My other procrastination habit is watching tv episodes of…. not naming them … but I guess you can guess what they are.
And with these habits time really flies. You wake up in the morning. Do some stuff. Play a game of Hearthstone. Do some more stuff. Lunch time. Do some other stuff. Surf the web when distracted (this part depends on situation, but lately new GvG deck builds for Hearthstone). Back to doing some stuff. And it's evening (dark at 17:30 now). So time to stop doing stuff. Time to watch some shows and play more Hearthstone. And then to bed, tomorrow the same routine again.
The question I ask myself now is: is that really my average day? I guess so. "Some stuff" is ideally programming or code research. But lately that's not really true. So I guess it's time to evaluate my life and see where I need to make some changes. As Steve would say: "Look in the mirror and ask yourself if today was the last day of your life, would you still do the things that you are going to do?". Hmm yes or no?