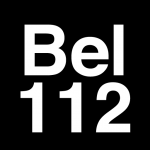 112 Meldingen is a Dutch app, focussed on 911 calls in the Netherlands. Which is why I'll switch to dutch in this entry.
112 Meldingen is mijn eerste App dat ik specifiek heb ontworpen voor de Nederlandse markt. Hoe ik op het idee kwam? Ik liep op straat en een brandweer wagen reed voorbij met sirene aan. Dus als ieder ander persoon komt de vraag binnen: waar gaat ie naartoe? Zo simpel is het. Als voor het antwoord zelf… dat is iets moeilijker. Want wat kan je eigenlijk doen om daar achter te komen? A/ er achter na gaan. Logisch toch of niet? Maar als je te voet bent of eigenlijk de tijd ervoor niet hebt. B/ zoek het op met je iPhone. Met bepaalde google zoektermen, online p2000 meldingen sites of twitter kom je daar dan uiteindelijk achter.
Met de 112 meldingen app gaat dit dus veel sneller. Haal je iPhone te voorschijn en start de 112 Meldingen App, ga naar meldingen en zie het resultaat. Wat ik er nog wel erbij wil zeggen is dat dit helaas niet "instant access" is. Je moet helaas wel wachten totdat de melding is verwerkt en beschikbaar is voor de 112 meldingen app. Hoelang dit duurt is afhankelijk van de drukte op het systeem en het aantal 112 meldingen dat binnen komt.
Functie 2 of meer functie 1 van de 112 meldingen app is om 112 te bellen. Start het app en druk op de grote ronde knop "bel nu". Dat is dan alles. Voor minder dringende gevallen zijn er andere alarm nummers beschikbaar. Kies de gewenste optie en druk op een knop, dat is dan letterlijk alles wat je hoef te doen.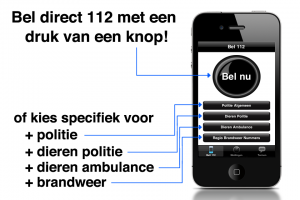 info beschrijving App Store:
Met de "112 Meldingen" App kunt u direct 112 bellen met een druk van een knop.
En voor de niet levensgevaarlijke situaties kunt met de "112 Meldingen" App ook specifiek die instellingen bellen die u nodig hebt. Denk hierbij aan de regio brandweer als uw kat vast zit in de boom of de dieren ambulance als er iets anders aan de hand is.
Een ander optie van de "112 Meldingen" App is dat het 112 meldingen laat zien in uw omgeving. Nieuwsgierig waar de brandweer vanochtend naartoe ging? Of waar die sirene's van gisteravond voor waren? Geen probleem. Afhankelijk van de regio/provincie is dit snel op te zoeken.
De meldingen in de "112 Meldingen" App zijn afkomstig van het P2000 systeem die de eerste hulp gebruikt (brandweer, ambulance en politie). U zult hierbij vaak afkortingen en termen tegen komen die een leek niet snel zal begrijpen. Ook hier biedt de "112 Meldingen" App een antwoord door u te voorzien van een handig digitaal woordenboek op uw iPhone.
mocht u vragen of suggesties hebben, stuur ze gerust naar:
support @ mysteryfiles.nl