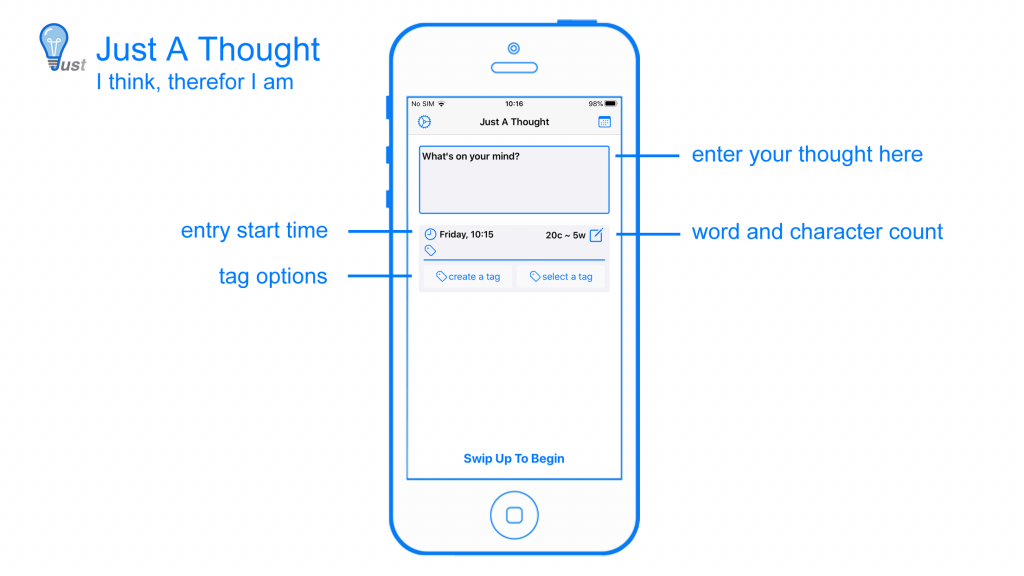 Just A Thought is an application designed to help you keep track of all your thoughts and ideas.
All you have to do is start the app and input your thought (with keyboard or voice dictation) and press enter. Your thought entry will be automatically ordered by date, time, and the names that you mention. Additionally, you can also add text and emoji labels to your thought.
Just A Thought has various modes.
Search Mode is an easy to use search function using the labels that you have set to help you find the specific thought that you want. Just tap a tag or multiple tags and all the thought with the associated tags will be shown.
Tag Mode shows all the tags that you have made and all the thoughts that are linked to it.
Day Overview Mode lists all the days in which you have made a thought entry, another way to help you find the thought of interest.
Diary Mode, all the thoughts for a day will be combined into a diary entry for that day. This is an easier way to read those thoughts of yours. You can swipe left or right to go through the days or select the specific day that you want using the timeline function.
Edit Mode enables you to edit a thought text, and also add or remove labels linked to the thought. This can help you identify that thought at a later time in the future.
With iOS 14 there is also a Widget option that shows you a random thought that you have made that day.