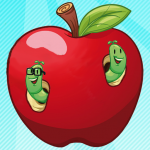 Wormy Apple is my first attempt in making a game using Cocos2D.
The whole game is quite straight forward: see a worm, tap it for point. Get extra point for tapping the one with glasses on. So picking on the one with glasses… I can say this because wear them to. Anyhow this is of course harder because the worm with glasses is faster than the one without. This game mechanism is kinda like the standard whack the mole games.
To make this interesting, I also implemented obstacles that you have to avoid. Like a bomb and cactus. Hitting this will cost you a live point. Didn't want to go for the instant death. So three live point, kinda standard in most of the games.
The other thing is that I implemented a miss counter. To keep track of the misses that you make. Missing a worm, increases the counter until game over. Didn't want a time limit, which most of the whack a mole games type do. The miss counter is tied to an Apple, which gets eaten when a certain amount of misses occur.
Game Center support is also available. Which is just to show you the high score you achieved. Which you can compare with other players around the world.
Any how my first game.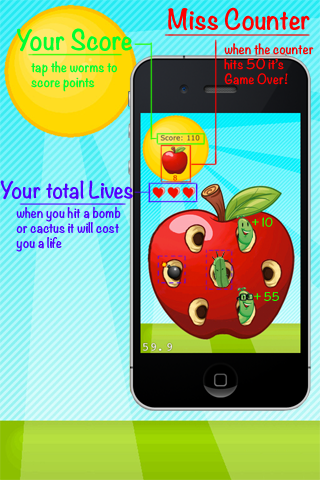 This image shows the game play mechanism that I just described above.
Good luck worm hunting.
itunes description:
Wormy Apple is a fast action game where you have to be alert every second. Hesitate for a second and you'll miss your chance. Tap without looking and you'll regret it. So be alert and stay focus!
The gameplay is straight forward. All you have to do is save your apple from the worms, while avoiding the bombs and cactuses. If you miss to many worms they will start to eat the apple, indicated in the upper left corner.
With the addictive gameplay, you'll spend hours trying to beat your best scores. Or the ones from your friends within Game Center.
