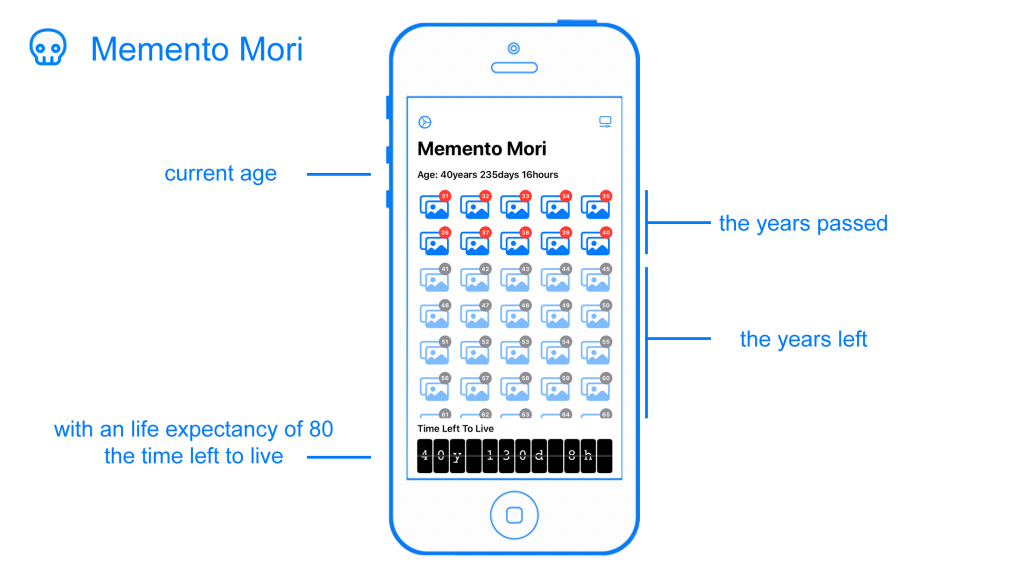 The Memento Mori Application aims to put your mortality in view. Celebrating your birthday is something that everyone does, but few people spend time thinking about when they will die.
Our time is limited. Memento Mori gives you an overview of the time that you have left to live. See how much time has passed by and be aware of what you have been doing with it. Your lifetime activity and achievement at one glance in the palm of your hand.
Avoid wasting your time doing useless stuff. Do things that matter and that is important to you.
Why this app?
Compliance with your daily life is one of the biggest causes of losing out on your hopes and dreams.
Who hasn't fallen victim to procrastination? Who hasn't been guilty of procrastination?
I don't feel like doing this today, I'll postpone it to tomorrow.
I am busy now and have other things to do, I'll skip it to another day.
Then before you know it too much time has passed by and you have lost focus towards your hopes and dreams. The thing that matters to you the most in life.
The questions?
Ask yourself the following question: what are your hopes and dreams in life? A thing that you crave for in life, a thing that's always on your mind (the last thought at night and the first thought when you wake up), a thing that can't be described in one word. The core of your being, the passion that drives you, the motivation that pushes you forward.
When you know this answer, that's a good thing and you should celebrate this fact. If you're not sure, try to dig deeper until you find the answer.
The next question you should ask yourself is: what are you willing to do and risks to take for making it come true.
The "What ifs"?
It's a hard question to answer, isn't it? What are you willing to do or what risk are you willing to take? What if you change the situation and setting to: you only have one day to live. Will you still be doing the things that you would normally be doing daily? Going to work, checking your social media account, spending your time posting/reading/watching media content.
What if you only have one week to live? What would and could you do? Start simple by defining an important moment or highlight for the week. (what could be the most important moment of the week). From here ask yourself what steps you could take towards making this moment come true.
What if you only have one year to live? How would you be spending your time? Do you enjoy your job and would you still be working in the same place until the end? What added value do all your social media account have in your life? Looking at the time spend on it, what else could you do with that same time.
What if you only have a couple of years left to live? (What would you do then?) What is important to you and is worth spending more time on. What activities consume a lot of time, but can be considered as not important at all. Reorder your priorities in life.
Avoid wasting your time doing useless stuff. Do things that matter and that is important to you.